Fortune Top 50: Apple è ancora l'azienda più stimata dell'anno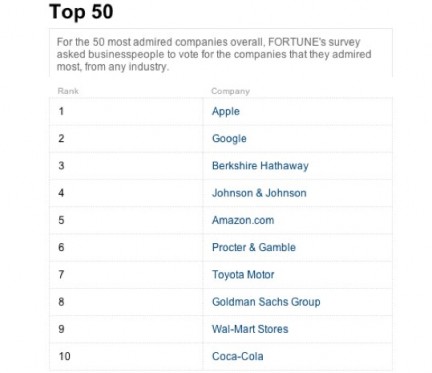 La classifica di Fortune, il celebre magazine di affari e finanza statunitense, ha decretato per il terzo anno consecutivo Apple come l'azienda più ammirata al mondo.
Sono stati i 250 milioni di iPod, i 43 milioni di iPhone e i 32 milioni di iPod touch venduti fin oggi che hanno solleticato il giudizio dei 4200 esperti interpellati da Fortune per stilare la propria classifica. Norbert Reithofer, CEO di BMW, ha espresso i propri complimenti ad Apple dichiarando:
The whole world held its breath before the iPad was announced. That's brand management at its very best. [Traduzione: il mondo interno ha trattenuto il respiro prima dell'annuncio dell'iPad. Questo è brand management ad altissimi livelli.]
Prodotti, rivoluzione della quotidianità, innovazione e fedeltà del consumatore sono le principali motivazioni che, stando al profilo aziendale redatto da Christopher Tkaczyk, hanno decretato ancora una volta la vittoria di Apple.
A seguire in classifica troviamo al secondo posto Google e al terzo Berkshire Hathaway. Amazon.com si posiziona in 5° posizione e Microsoft all'11° posto.