Give good food to your Mac: ritornano gli sconti sulle applicazioni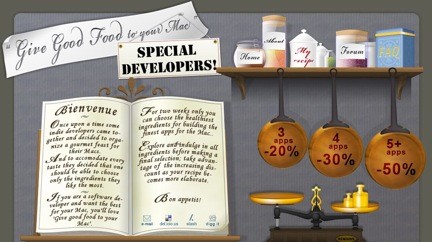 Give good food to your Mac, l'iniziativa che propone ottime applicazioni in saldo, ritorna a servire piatti da gourmet a prezzi stracciati.
Gli sconti proposti questa volta sono del 20%, del 30% e del 50% a patto di acquistare la licenza di 3, 4 o 5 e più applicazioni contemporaneamente. Dopo il salto, la lista di software che partecipano all'iniziativa:

BannerZest
InstallBuilder
Changes
Code Collector Pro
DbVisualizer
DeltaWalker '08 Commercial o Personal
DMG Architect
DropDMG
ForgEdit
Forklift
iLocalize
iShell
MaxBulk Mailer
MediaCatalog
Email Backup Pro
Navicat MySQL GUI
PHP Function
Razor SQL
REALBasic Personal Edition
REALBasic Professional Edition
Revolution Studio
SiteMap Automator
Domainer
Source Guarding PHP Encoder
SQLGrinder
SubEthaEdit
SuperCard Developer o Standard Edition
Transaction
Typinator
Unity
Per maggiori informazioni si può consultare la pagina dedicata all'iniziativa. Al momento della stesura di questo post mancano solo 3 giorni, 23 ore e 2 minuti allo scadere dell'offerta, quindi conviene affrettarsi. Buoni acquisti a tutti.