iPhone sarà anche UMTS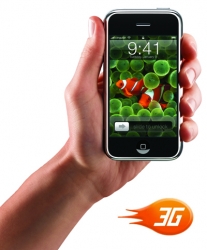 In tutto il mondo è passata la notizia che iPhone sarà dotato solamente di connettività GSM-EDGE.
Fonti Apple dichiarano, invece, che sarà GSM solo il primo nato della famiglia iPhone, mentre è già pronta una roadmap che porterà presto sul nuovo smartphone Apple la tecnologia UMTS/3G e molte altre nuove features.
Ma è attendibile questa fonte?
Certo che sì, dal momento che si tratta di una dichiarazione dello stesso Steve Jobs, fatta proprio sul palco del keynote. Al minuto 50:10 dello streaming, infatti, si ascolta chiaramente Jobs dichiarare "We have a roadmap and we plan to make this a 3G phone in the future".
Una dichiarazione molto chiara e importante della quale, stranamente, nessuno (noi compresi) si era accorto.
[Grazie a Mr. TFM per la segnalazione (e per l'acume...)]