Tim Cook risponde ad un lettore di Melablog: Amo l'Italia, Siri supporterà presto l'italiano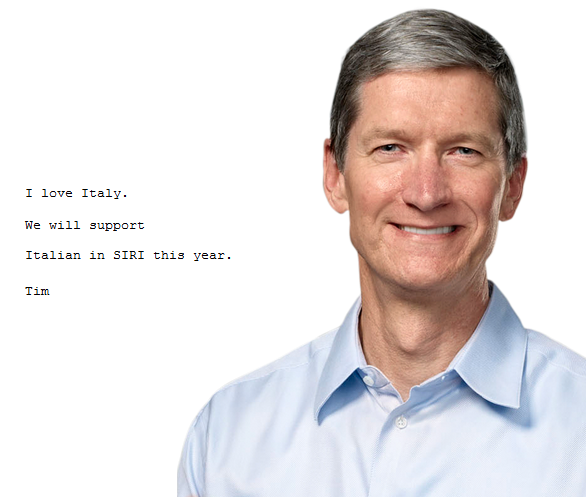 Il nuovo iPad sarà disponibile in Italia dal 23 marzo, una settimana dopo il debutto statunitense ed europeo, ma dall'indagine di ComScore l'Italia risulta il terzo paese europeo per incremento di vendite dell'iPad posizionandosi alle spalle di Regno Unito e Francia, ma davanti a Germania e Spagna. Come mai Apple non include anche l'Italia tra le nazioni europee dove il lancio di un nuovo prodotto avviene in concomitanza con il primo giorno di commercializzazione negli Stati Uniti?
Il nostro lettore patavino ha pensato di scrivere direttamente al CEO di Apple, porgendogli la domanda in maniera molto schietta:

Caro Tim,

mi chiedo come mai non vi piaccia l'Italia, io penso che siamo dei buoni clienti per voi ma non lo apprezzate.
Guarda questa, siamo il secondo paese in Europa (siamo dietro all'UK!)
In particolare:
1) Siri non è ancora stato rilasciato in italiano (piuttosto strano dopo 6 mesi)
2) Non siamo più nel gruppo del "primo giorno" di lancio di un prodotto dall'iPhone 4 (ci sono alcune nazioni che non sono al nostro livello)

Grazie

Mike
La risposta di Tim Cook non si è fatta attendere:

Michele,

Amo l'Italia.

Supporteremo la lingua italiana in SIRI quest'anno.

Tim
Per verificare l'autenticità dell'email ci siamo fatti mandare dal nostro lettore, che ringraziamo per la cortesia, l'intestazione del messaggio. L'indirizzo IP dal quale è stata spedita appartiene effettivamente ad uno dei server Apple, ma per completezza riportiamo qui sotto il messaggio completo.

Received: by 10.227.60.207 with SMTP id q15csp31277wbh;
Fri, 9 Mar 2012 08:53:26 -0800 (PST)
Received: by 10.50.194.233 with SMTP id hz9mr4411569igc.11.1331312005426;
Fri, 09 Mar 2012 08:53:25 -0800 (PST)
Return-Path:
Received: from mail-out.apple.com (mail-out.apple.com. [17.151.62.51])
by mx.google.com with ESMTPS id k6si2886828igq.66.2012.03.09.08.53.24
(version=TLSv1/SSLv3 cipher=RC4-MD5);
Fri, 09 Mar 2012 08:53:25 -0800 (PST)
Received-SPF: pass (google.com: domain of tcook@apple.com designates 17.151.62.51 as permitted sender) client-ip=17.151.62.51;
Authentication-Results: mx.google.com; spf=pass (google.com: domain of tcook@apple.com designates 17.151.62.51 as permitted sender) smtp.mail=tcook@apple.com
MIME-version: 1.0
Content-type: multipart/alternative;
boundary="Boundary_(ID_lTBUTMfEIwUNEssNIubaRw)"
Received: from relay17.apple.com ([17.128.113.18])
by mail-out.apple.com (Oracle Communications Messaging Server 7u4-23.01
(7.0.4.23.0) 64bit (built Aug 10 2011))
with ESMTP id <0M0M00AXMMVKJFP0@mail-out.apple.com> for @gmail.com; Fri,
09 Mar 2012 08:53:24 -0800 (PST)
X-AuditID: 11807112-b7b6eae000005153-6f-4f5a35842b9c
Received: from cookt1.apple.com (cookt1.apple.com [17.201.40.123])
by relay17.apple.com (Apple SCV relay) with SMTP id A2.CD.20819.4853A5F4; Fri,
09 Mar 2012 08:53:24 -0800 (PST)
From: Tim Cook
Subject: Re: Why Apple doesn't like Italy?Look at that pic
Date: Fri, 09 Mar 2012 08:53:24 -0800
In-reply-to:

To: Michele
References:
Message-id: <331613D4-E74A-40D8-9B54-0A9CCD8D7AFE@apple.com>
X-Mailer: Apple Mail (2.1251.1)
X-Brightmail-Tracker:
H4sIAAAAAAAAA+NgFlrGLMWRmVeSWpSXmKPExsUieFKjWrfFNMrfoH+7iMXHQ5dZHRg9ds66
yx7AGMVlk5Kak1mWWqRvl8CVMfnWN+aCvQIVB/9NYGlgnMPXxcjJISFgIvHtQT8bhC0mceHe
eiCbi0NIYAujxM9JEAk2AQWJWa/WMYHYvALGEmtuvWMBsZkFEiQ6nk0CqxEWsJI492krO4jN
IqAi8fHUUkYQm1MgUGL2yfusILaIgJzExBnzweJCAgESF65NYoaYaSPR+GAnK8QR8hItX++w
TWDknYVk3Swk6yBsbYllC18zQ9h6Ei+b3rFD2PIS29/OgYrrSlxcN4lxASPbKkbBotScxEpD
c73EgoKcVL3k/NxNjKDQaygU2sF4f5feIUYBDkYlHt5NulH+QqyJZcWVuYcYJTiYlUR4tViB
QrwpiZVVqUX58UWlOanFhxilOViUxHnPW0T6CwmkJ5akZqemFqQWwWSZODilGhgrX6ufzT24
dEs2m9PFdA7m3vwUnpQru/9oaanUMWgLN6YuZ2TdflrzxQ8BxfhVgldLDjSyMCxhb3Uu7k9i
LI78LdjVKfrZW3jngZYF087Lu75WElyXXijRpHnBo1r0Vo1j+qoTD066P76ssrNjcUja7m6+
Ctu65N3n1rSn1T/z0W5YZ2LySImlOCPRUIu5qDgRANDwU8U5AgAA
--Boundary_(ID_lTBUTMfEIwUNEssNIubaRw)
Content-type: text/plain; CHARSET=US-ASCII
Content-transfer-encoding: 7BIT
Michele,
I love Italy.
We will support Italian in SIRI this year.
Tim
On Mar 8, 2012, at 8:27 AM, Michele wrote:
> Dear Tim,
> I was wondering why you don't like Italy, I think we are a good customer for you but you don't appreciate it.
> Look at that, we are the second country in Europe (we are after UK!) https://static.blogo.it/melablog/ipadgrowth_eu5_feb11tojan12.png .
> In particular:
> 1) Siri has not been released yet in Italian (quite strange after 6 months)
> 2) We are not one anymore in the group "firstday" products launch from Iphone 4s (there are some country that are not at our level).
> Thank you,
> Mike