iPad inizialmente in vendita solo presso Best Buy e negli Apple Store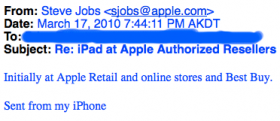 Steve Jobs afferma che Apple metterà in vendita gli iPad unicamente negli Apple Store e presso Best Buy, in una recente e-mail ad un utente. Sembra che ultimamente il direttore generale di Apple si stia dedicando particolarmente a rispondere alle e-mail, quasi fosse una nuova strategia di marketing. In ogni modo, alla domanda se gli iPad sarebbero stati messi in vendita presso i rivenditori autorizzati, la risposta di Jobs è laconica:
Initially at Apple Retail and online stores and Best Buy.
La mail di Steve Jobs è rivelatrice, poiché implicitamente suggerisce che AT&T non distribuirà gli iPad nelle sue rivendite, per lo meno il 3 aprile. Già a febbraio, Tim Cook aveva dichiarato che gli iPad sarebbero stati resi disponibili presso i propri canali diretti di Apple e altri rivenditori, tra cui Best Buy.
[Via AppleInsider]