Shazam mette nei guai Apple, Motorola, Samsung e altre società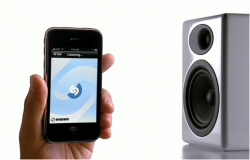 Shazam, il nome non risulterà nuovo a molti di voi, non solo è la (fantastica) applicazione per iPhone, bensì anche un'azienda londinese che ha sviluppato una tecnologia per il riconoscimento e l'individuazione di informazioni musicali da qualsiasi fonte sonora, come la televisione, un cd o un video di YouTube.
A quanto pare tale tecnologia, cuore di Shazam per iPhone (distribuita tramite App Store di Apple) e altri servizi offerti da aziende del calibro di Samsung, Amazon.com, Napster, Motorola, Gracenote, Verizon Wireless, LG Electronics, AT&T Mobility e Pantech Wireless, è stata motivo di un capo d'accusa depositato martedì scorso da Tune Hunter nei confronti di tutte queste aziende, presso la Texas Eastern District Court.
Tune Hunter sostiene che il sistema di riconoscimento e identificazione di Shazam infrange il brevetto numero 6,941,275, depositato da Remi Swierczek dell'azienda stessa a settembre 2005. Per questa motivazione, la richiesta presentata alla corte texana riguarda un'ammontare economico (ancora indefinito) per l'utilizzo non autorizzato della tecnologia depositata e una restrizione sull'utilizzo futuro.
Il brevetto impugnato da Tune Hunter riguarda
a music identification/purchasing system, specifically to a method for marking the time and the name of the radio station in portable device such as a key holder, watch, cellular phone, beeper or the like which will allow the user to learn via internet or regular telephone the name of the song, artist and/or music company by matching the stored data with broadcast archive.
sostanzialmente, un sistema per l'identificazione/acquisto di informazioni musicali, in particolare per visualizzare orario di riproduzione e nome della stazione radio in dispositivi portatili di ogni genere oppure per permettere all'utente di visualizzare nome della canzone, artista e/o etichetta discografica, grazie agli archivi online, tramite internet o normale telefono.
La cosa strana è che l'accusa non è stata mossa nei confronti di RIM per i propri BlackBerry, Android e Facebook i quali utilizzano tutti Shazam.
[via The Inquirer]