Le 15 previsioni più "azzardate" su Apple e i suoi prodotti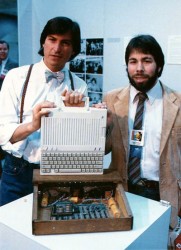 Più che un elenco "esaustivo" e completo, quello pubblicato da Wired è un articolo interessante che ci permette di ricordare alcune delle più famose previsioni, riguardanti alcuni prodotti di Apple, effettuate da diversi addetti del settore. Ce n'è per tutti i gusti: dal presunto fallimento della linea iMac, passando per un famigerato iPod prodotto da Hewlett Packard e concludendo con la (nefasta) possibilità di una "morte" di Apple stessa.
Delle 15 previsioni pubblicate, quelle che maggiormente hanno attirato la mia attenzione sono queste 3:

"The biggest long-term problem with moving to an Apple platform is that the company is in decline." — Rob Enderle, Ottobre 2003.


"Within the next two months, Sony will acquire Apple. ... Sony will be the white knight who will step into the picture." — ex-vice presidente di Apple, Gennaio 1996.


"The expectation on the iPod is that HP's version will probably outsell Apple's version relatively quickly." — Rob Enderle, riportato anche da MacObserver.


Rileggere le dichiarazioni passate, mette sempre un po' di nostalgia no?