Nuova ondata di video su iTMS Usa, con Mtv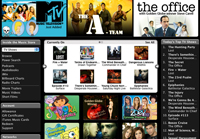 Apple sta caricando in queste ore nuovi contenuti televisivi sull'iTunes Music Store americano. Questi provengono dai canali The N (South of Nowhere), SOAPnet (Soapography), Nickelodeon (Spongebob, Dora the Explorer e Zoey 101), Mtv (Beavis and Butt-Head, Laguna Beach, Wonder Showzen, Gauntlet 2, My Super Sweet 16, Jackass e Punk'd), Comedy Central (South Park, Drawn Together e Best of Comedy Central Stand-Up) e ABC Family (Wildfire).
Nell'offerta è interessante notare l'ingresso di Mtv, impegnata anche in un suo store esclusivo intimamente legato a Window Media Player 11 su Vista...