Apple Store: nuovo negozio a Francoforte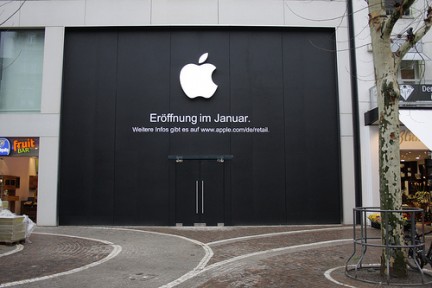 Tra un'ora Apple inaugurerà un nuovo Store a Francoforte (in Germania). Il negozio è sito in Große Bockenheimer Straße numero 30, sarà inaugurato alle ore 11:00. Sarà aperto dalle ore 10:00 alle ore 20:00 dal lunedì al sabato mentre il giovedì ed il sabato rimarrà aperto fino alle 21:00. Il primo workshop è programmato per il prossimo lunedì, e riguarderà iMovie, iDVD e GarageBand.
Lo store è il terzo in Germania, dopo quello di Monaco ed Amburgo. L'apertura del negozio era stata fissata per il 5 dicembre 2009, giusto in tempo per i regali natalizi. Apple non ha fornito una spiegazione per il ritardo, limitandosi a pubblicare in rete una frase che annunciava il cambio di data: "We're putting the finishing touches on the final touches".
[Via Apple.de]